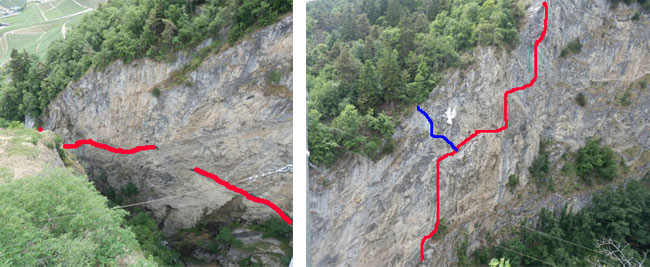 | | | | |
| --- | --- | --- | --- |
| Footbridge | Monkey Bridge | Ladder | Zipline |
| 0 | 3 | 0 | 0 |
Features
This via climbs through the Salentze Gorges and there is a beautiful section next to a waterfall (and in the waterfall during summer or after thunderstorms). This via ferrata is not made for beginners and the third part is reserved for those with strong arms as the overhang is very tough. I repeat myself, the third part is not for those who overestimate their strength! So if you haven't been training and you do not have much/any arm strength don't go because its extremely difficult.
Rescues are not free and the helicopter costs more than 3,500 Frs (3,000 Euro) and insurance companies don't cover ego problems.
Demanding and in a vertiginous setting.
ViaFerrata Tips and Tricks
On the trail that leads to the via ferrata you'll come across a warm waterfall. It is nice in the fall or in spring.
Take an extra lanyard to use for resting. If your arms get tired, you can use it to rest and it will help you finish the via ferrata.
The rope bridge at the beginning of the via ferrata acts as a traffic controler. In summer there are a lot of people, even idiots without helmets wearing tennis shoes. We even saw a guy from Neuchâtel doing it backwards! After a good yelling-at, this moron, whose behavior posed a fatal risk to all those climbing up, turned back the other way.
If you are just starting out with via ferratas don't go here and train on an easier one. On the last part there were 9 helicopter rescues in 2013 because of morons who tried to be Mr. Tough Guy. As the rock face is very steep you are putting the lives of the rescuers at risk, you will receive a big bill and you are discrediting the via ferrata community.
For your car
If you leave your car in one of the 3 parking lots you risk getting a ticket. What is better is to leave it at the top/end point of the via ferrata, near the Farinet footbridge.
Then go down to the start (by way of the vineyards). This way you will avoid having to take the trail that goes to the baths parking twice.


Grade
Strength
Part 1: 3
Part 2: 3
Part 3: 4
Dizziness
Part 1: 3
Part 2: 4
Part 3: 4
Type
Plaine: 1
Technics
Part 1: 2
Part 2: 1
Part 3: 2
Evaluation
Part 1: Difficult
Part 2: Very Difficult
Part 3: Extreme
Information
Office du Tourisme de Saillon
Length and Altitude
Total length : 1010 m.
Cabled distance : 820 m.
Elevation gain : 335 m.
Start: 536 m
Finish: 841 m

GPS Coordinates
Via ferrata parking lot
N 46'10.857 E 007'11.474 Altitude 525 m
From the start of the via:
N 46.10.938 E 007.11.236 Altitude 536 m
Altitude: 995 m.
Time of Year
March to November (if there is no snow).
Timing
Approach from the Saillon Baths: 25 minutes
Via Ferrata: 2h
3rd part: 45 m
Way back: to the parking lot about 50 min
By car
From the highway from Martigny exit at Fully and go towards Saillon.
At the Saillon exit (after the baths), you will go across a very small bridge. Immediately after the bridge take the unpaved road that goes along the river.
For parking: as Saillon is a fairly quiet village, the police has found a hobby. They have installed a traffic surveillance system in the area surrounding the Via. There are three parking lots for those going to the via ferrata and fines for those who leave their ride outside of these parking lots. So be careful and don't try anything heroic.
Pour le parking: comme Saillon est un village assez calme, la Police a trouvé un passe-temps. Elle a installé une signalisation aux abords de la Via. Il y a 3 parkings prévus pour les ferratistes et des amendes pour ceux qui laissent leur titine en dehors des parkings. Donc fais gaffe et pas d'héroïsme.
The parking lots are far from everything! There is one near the baths and another across from the baths. Of course, they all charge. Account for 25 minutes of walking to reach the start of the via.
By Train
Take the train to Martigny and then the bus to Saillon (the baths). Contact the SBB for schedules and fares.
Access
From the parking spot (see the GPS coordinates and the point marked on the map, go up along the river, you'll pass by a small waterfall and you'll find the cable).
Via Ferrata
It starts off pretty strong with a very vertiginous nepalese bridge (see picture) that sways quite a bit. And the cherry on the cake... you have to change the lanyards three times during the crossing. If you get stuck here it's a sign that you shouldn't go.
The climb is very beautiful and the atmosphere vertiginous and you hear the murmur of the river carving its path through the gorge. You'll get a second shot at a rope bridge. Then it climbs pretty steeply and you get closer to a waterfall. During the summer you go partially into it and you'll get soaked. Then you come to the first escape route.
The second part starts off with a slightly overhanging section that is fairly hard on your arms. It's pretty strenuous but you can take a break in a cavern that is underneath the Farinet footbridge. Then you keep climbing and it gets more and more demanding until you reach the escape route.
The third part is EXTREMELY STRENUOUS. If you are not doing well, exit here because once you start you can't go back and there are three overhanging sections that are mega tough. Taking an extra via ferrata lanyard is very helpful.
After you have crossed a very vertiginous rope bridge, you pass three overhangs that are really difficult and really work the arms. Luckily the cables were perfectly placed and you don't have to change to a new cable section during any of the overhanging parts.
Wow, you made it to the top!


Way Back
Tu descends en direction de la passerelle à Farinet et ensuite tu coupes dans les vignes. Tu suis le chemin pédestre. Un peu raide parfois et plein Sud!
Go down towards the Farinet footbridge and then cut across into the vineyards. Follow the pedestrian trail. A bit steep and it sometimes is completely south facing!
Check out the tip above in Tips and Tricks to avoid having to take the trail that winds its way down to the parking lot for via ferrata-ists.
Where to Sleep
Check with the Tourism Office. There are Bed&Breakfasts in this area.
by ViaFerrata.org Youtube
Photos