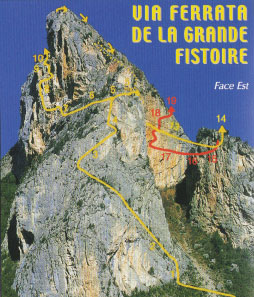 Footbridge
Monkey Bridge
Ladder
Ziplines
1 x 59 m
1 x 32m
1 poutre 5 m
1
1 x 150 m
1 x 135 m
1 x 220 m
Features
3 impressive ziplines!
A big footbridge, 59 teeny tiny meters... which connect "la Petite" and "la Grande" (the Small and Big) Fistoire with a 30m hanging bridge!
A magnificent route, certainly short, but ingenious, daring, acrobatic, impressive, and safe.
You have to pay.
In two parts.
ViaFerrata Tips and Tricks

You can rent all equipment on site: helmet, lanyards, harness, and even the pulley for the zipline.
If you can go during the fall... bring your camera.
The Bombu athletic section, right before the top, can be avoided by taking the escape route whose name says it all: "Les Bras Cassés" ("The Broken Arms").
Cotation
Strength
Part 1
Part 2
2
4
Dizziness
Part 1
Part 2
3
4
Type
Part 1 Mountain
Part 2 Mountain
1
1
Technics
Part 1
Part 2
1
2
Classification
Part 1
Part 2
Difficult
Very Difficult
Information
Length and Altitude
Start: parking lot at 790 m
Summit: 1,110 m
Length: 800 m
Time of Year
All year
Timing
10 minutes of approach
3h00 for the via ferrata.
20 minutes to get back.
By Car
Le Caire, located in the Grand Vallon valley, is 25km northeast of Sisteron, on the left bank of the Durance.
From Sisteron, leave N85 and go towards Claret and then Melve. After this village, take D951 A towards le Caire.
Go across the village and keep going for about 1km. You won't miss it. There is a parking lot on the side of the road.
If you are comming from the south (Aix Marseille) on highway A51:
Exit at Sisteron Sud and then take D951 towards la Motte du Caire, then la Caire and then 1km further is the via ferrata
By Train
Check with the SNCF: schedules and fares
Access
The trail starts from the place called "lieu des cheminées" (place of the chimneys) on the side of the D951. 10 minutes of approach.
Via Ferrata
You'll get a topographic sheet at the start at the same time as you get your entrance ticket. This sheet will give you all the information you need for the climbing routes in the region. Athletic, fun, short, and well equipped, for all people in good physical condition, some athletic sections. Fortes sensations de vide dans certains passages.
Two possible options :
- short itinerary
This itinerary lets you get to the footbridge quickly and avoid the Bombu section (which is tough on the arms) as well as reach the Grande Fistoire summit. It's vertiginous, but that's it.
- long itinerary
The complete route of the Grande Fistoire : you'll find both the footbridge and hanging bridge. This part is very demanding and strenuous as it has a 50m overhang. "La Grande Muraille" ("The Great Fortification"). A last short and intense overhang is part of the via ferrata's descent. Save some strength for this section.
Way Back
Back to the starting point, if possible!
Where to Spend the Night
- Moussereins campground in la Motte du Caire
- Clot du Jay campground in Clamensane
Media
par Thierry Sanchez, Youtube