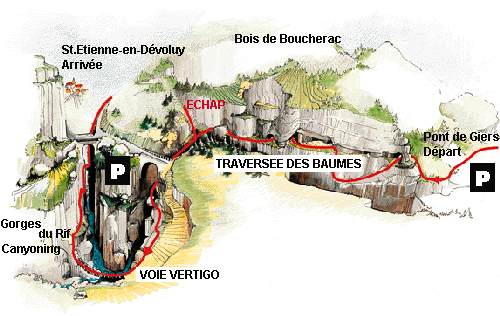 | | | | |
| --- | --- | --- | --- |
| Footbridge | Monkey Bridge | Ladder | Zipline |
| 1 x 50m | 1 x 14 m | 0 | 0 |
Features
Two via ferratas: Les Baumes and la Vertigo. These itineraries meet up on a footbridge.
Above the Souloise river, over 50 meters above, a rope bridge (the 14m long and I'm not even scared type) lets you go from one bank to the other
This via ferrata evokes two different kinds of feelings: the mountain spirit from the Baumes traverse and the spelunking one from the Vertigo route.
ViaFerrata Tips and Tricks
At the end of this via ferrata perade you will come across a rock climbing site in the Rif gorges as well as an introduction to canyoneering.
If you have time, go. It's always nice to discover new things.
Grade
Strength

Beaumes
Vertigo

1
3
Dizziness
Beaumes
Vertigo
2
3
Type
Beaumes
Vertigo
Montagne: 3
Montagne: 2
Technics
Beaumes
Vertigo
1
3
Evaluation
Beaumes
Vertigo
Mid-Difficult
Difficult
Information
Length and Altitude
Les Baumes
Length : 560 m
Start : 1,120 m,
Elevation gain: 50 m
La Vertigo
Start: 1120 m,
Length: 980 m
End : 1,290 m
Elevation gain: 70 m.
GPS Coordinates
From the parking lot at the start : 44.696246, 5.935093
Time of Year
From the beginning of May to the first snowfall. Check with the Dévoluy Tourism Office
Timing
Access: 1 minute
Baumes traverse: 1h30 to 2h
Vertigo Route: 1h30 to 2h
Way back: 15 minutes
By Car
N 54 Grenoble - Gap. N85 Vizille la Mure Corps D66 Pont de Sautet D 537 St-Disdien en Dévoluy D117 Giers Courtil Pont du Giers
By Train
Check with the SNCF: schedules and fares. But it's a nightmare to get there! There are connections with coaches and for those who can afford it, taxis. But that costs a bit more.
Access
From the Via Ferrata parking lot, cross the bridge and once you are on the bank, take the little trail going up.
Via Ferrata
What's special about this via ferrata is that there is a small cave to crawl through on all fours...Make sure you don't bring a big backpack.
The first part resembles a mountain trail and goes along the gorges 50m above the river. It's a good place to start for beginners. But, be careful, la Vertigo, which is yet to come, is on another level.
So if you are a beginner do not get this first easy part confused with the next part which is more sketchy and more like a real via ferrata.
Hint: Wear proper shoes, especially for when it's wet.
Via Ferrata Vertigo
The start of this demanding via ferrata is located on the right bank below the parking lot. You keep going on the same rock face to pass under the road bridge. A rope bridge (3m) connects this section with the old route and the footbridge.
It is a bit more vertiginous than les Baumes, but perfectly equipped. You'll head out into the gorges with the beautiful sound of the flowing water. The view from the traverse of the gorges is magnificent.
Way Back
You can get back to the parking lot in 10 minutes
Where to Spend the Night
The La Souloise à Saint Etienne en Dévoluy Inn is the closest available accomodation to the via ferrata and you can also rent equipment there.
Media