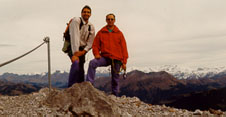 | | | | |
| --- | --- | --- | --- |
| Footbridge | Monkey Bridge | Ladder | Zipline |
| 0 | 0 | 0 | 0 |
Features
This is an introduction to Via Ferratas for beginners and children and if the first part is okay, there is a second part that is a tad more demanding.
ViaFerrata Tips and Tricks
Take your MTB for the way down to Rougemont. A bit steep at the beginning, but very nice in the end.
Grade
Strength

Via 1: 1

Via 2: 2

Dizziness
Via 1: 1
Via 2: 2
Type
High-Mountain
Via 1: 3
Via 2: 2
Technics
1
Evaluation
Via 1: Initiation
Via 2: Difficult
Information
Tourism Office: Rougemont-Château d'Oex
Length and Altitude
500 m et 200 m (2 parts),
Start at 2'130 m
Finish at 2'284 m
GPS Coordinates
N.46'27.666
E 007 12.444
Time of Year
When the lifts are open. (usually June to September).
Timing
Approach from the top of the lifts 3 min.
ViaFerrata: 15-20 minutes
Way back: 15 minutes
By Car
Highway Geneva-Lausanne: exit at Aigle-> towards Château-d'Oex.
From Fribourg: exit the highway at Bulle, towards Château-d'Oex.
Once you are in Château-d'Oex go towards Gstaad, Saanen. Once you are in Rougemont, go right at the roundabout and go down towards the river where there are some lifts.
By Train
The train leaves from Montreux and stops in Rougemont. Contact the SBB, for schedules and fares.
Access
Take the lifts to the top of the Videmanette, here is the start of the via,
For the super athletic, it is possible to walk up from Rougemont. Good luck!
Via Ferrata
There are no major difficulties except for a small part that is a little strenuous and an ity-bity vertiginous section.
Excellent for beginners and for those who love walking. The ferrata is divided into two parts. On the way up, take the path on the left which is more like a ferrata. The path on the right is mostly used for the way down, and presents no difficulties. There is a beautiful panorama at the summit.
It is possible to dine at the restaurant.
Way Back
Take the path that leads to the restaurant and the top of the lifts.
Where to Spend the Night
Camping with a pool in Chateau d'Oex.
Media