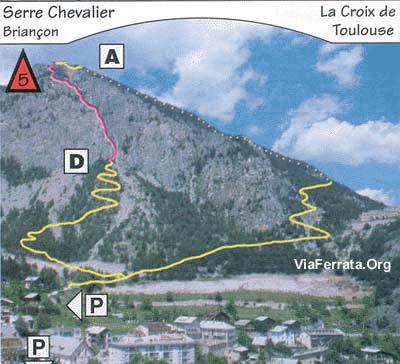 | | | | |
| --- | --- | --- | --- |
| Footbridge | Monkey Bridge | Ladder | Zipline |
| 1 x 1m | 0 | 0 | 0 |
Features
Recommended for beginners and those who don't want to get scared.
Conseils ViaFerrata Tips and Tricks
Fully south facing, either go early in the morning or bring enough water, sunscreen, and sunglasses.
Very popular during the summer, it's better to avoid certain weekends.
Grade
| | |
| --- | --- |
| Strength | 1 |
| Dizziness | 2 |
| Type | High Mountain: 1 |
| Technics | 2 |
| Evaluation | For Beginner, Initiation |
Information
Length and Altitude
Start : 1,290 m
End: 1,962 m
Length : 370 m
Elevation gain : + 672 m
Time of Year
April to when the snow starts to fall.
Timing
40 minutes of approach
Via Ferrata: 1 to 2 hours
The way down is steep but equipped. About 40 minutes.
By Car
From Grenoble take N91 towards the Lautaret pass to get to Briançon.
By Train
Check with the SNCF: schedules and fares
Access
Park your car in the Champ de Mars parking lot, above the city of Vauban. Go up 500m on a small road near the very visible cliff face until you reach a water tank (sign).
Follow a marked trail. The via ferrata starts at the base of the south-east arrête.
It takes about 30 minutes to walk to the start which is found in a couloir to the left of the climbing routes.
Via Ferrata
The cabled itinerary starts off with a series of ledges and little walls. When it's steep there are always more than enough rungs to keep you at ease. After the first third you go across the President's footbridge (your choice- the brand of cheese or the one in Paris). No problem, it's a meter wide and much scarier sections exist in the world of via ferratas.
Then you keep going with Briançon beneath you, there are quite a few walking sections.
A good snack at the top will reward you for your efforts. On the way back you pass by the Salettes Fort and then continue on towards the parking.
Way Back
Very simple.
Where to Spend the Night
Media
par Chaîne de zebrprod, Youtube