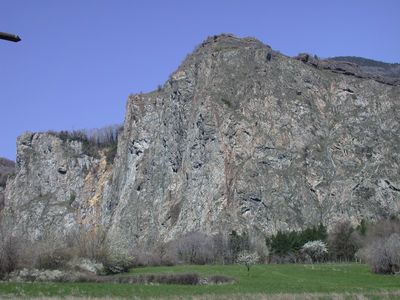 | | | | |
| --- | --- | --- | --- |
| Footbridge | Monkey Bridge | Ladders | Zipline |
| 30 m | 0 | 2 | 0 |
Features
In two parts: "La Cascade" (The Waterfall) and "Le Bastion" (The Bastion).
The two sections can be done seperately from each other. Can be done all year. Vertiginous and strenuous.
The Bastion via ferrata is more demanding and has some overhanging sections. It ends with 250 meters of void on the magnificent plateau.
ViaFerrata Tips and Tricks
Big thrills guaranteed. If you are afraid of heights, avoid this via ferrata at all costs. If you have to choose between the two, the waterfall and the footbridge are already quite thrilling. Be wary of thunderstorms as they can make the waterfall swell. Take a sling with you so you can rest if you're feeling tired.
Grade
Strength
Cascade: 4
Bastion: 4
Dizziness
Cascade: 4
Bastion: 4
Type
Cascade: Paine 1
Bastion: Paine 1
Technics
Cascade: 2
Bastion: 2
Evaluation
Cascade: Difficult
Bastion: Very Difficult
Information
Length and Altitude
Length: 550 m
Start of the Via-ferrata: 310 meters
End of the Via-ferrata: 510 meters
Length of the Via-ferrata : 450 meters
Elevation gain : 200 meters
Time of Year
Open all year.
Timing
La Cascade: 1h00
Le Bastion: 1h00

By Car
From Chambéery take A43 and then go towards St-Jean de Maurienne, Modane. Pontamafrey is located a few kilometers before St-Jean. The via ferrata is at the top of the village on the left. The people of this region are really nice so don't hesitate to ask them for directions.
By Train or Bus
Check with the SNCF: schedules and fares.
Access
From the parking lot go left (while looking towards the mountains). Once you get to the road, go up to the top of the switchbacks by taking the small rocky trail (about 15 minutes).
Via Ferrata
La Cascade: well equipped, but right from the start you can sense what is going to happen to you. If you are afraid of heights, don't keep going because usually with 200m of void it doesn't get better.
The ladders suspended in the void might make you cringe but what a joy it is to be on the footbridge! After the footbridge, the via ferrata ends easily and you can say to yourself: A) I'm going to take the exit. B) Let's go to the second part.
B as in Bastion. This part goes up into the rock face that is adjacent to the waterfall. It is vertiginous and there are four overhangs so your arms will tense up. Take a sling with you so you can rest in case and also to let your tense arms take a break.
It's one heck of a beautiful via ferrata!
Way Back
Fairly intuitive and there is no way to get lost.
Where to Spend the Night
Pontamafrey Hotel and the camping in St-Jean de Maurienne
Media
by viaferrataalpes, Youtube