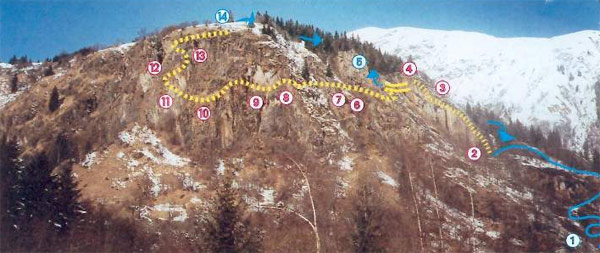 | | | | |
| --- | --- | --- | --- |
| Footbridge | Monkey Bridge | Ladder | Zipline |
| 1 x 21m | 2 | 0 | 0 |
Features
Extraordinary route, a rope bridge, footbridges, and vertigo. This via has it all. A real delight. Fun.
Beginner's route at the beginning for children...
South facing, you can go up it most of the year.
ViaFerrata Tips and Tricks
Whatever you do, don't miss this via ferrata, it is simply fantastic.
A learner's via ferrata allows you to teach your children (7 years and older) and beginners in complete tranquility. Access to both itineraries is free.
Grade
| | |
| --- | --- |
| Strength | 2 |
| Dizziness | 4 |
| Type | Mountain: 2 |
| Technics | 2 |
| Evaluation | Difficult |
Information
Length and Altitude
Length: 400 m.
Elevation gain : 216 m
Start : 702 m
Finish : 918 m
Exposure : Southeast facing
Time of Year
Almost all year except when snow makes an appearance.
Timing
ViaFerrata access: 10 minutes
Via Ferrata: 2h
Introduction for children : Between 20 minutes and infinity for children
Way back: 30 minutes
By Car
Chambéry, towards Modane, St-Jean de Maurienne. Before St-Jean go right towards St-Colomban.
By Train or Bus
Check with the SNCF: schedules and fares.
Access
Cross the village of St-Colomban, you'll find the via ferrata by the exit to the right of the road. It is well signed.
Via Ferrata
This Ferrata is a bit of an original chef d'oeuvre.
You won't get bored, 1 footbridge, 2 rope bridges, the sensation of the void... everything is in place for your moment of pure pleasure.
The trickiest section is near the beginning, so you'll be caught. The first escape route is found after the footbridge. Next you go on a long and very aerial traverse with two rope bridges.
A few steep and athletic sections near the end offer themselves freely to your tired arms, who, by this point, are not asking for so much!
Way Back
Intuitive.
Where to Spend the Night
Check with the tourism office.

Media

by DavidZof