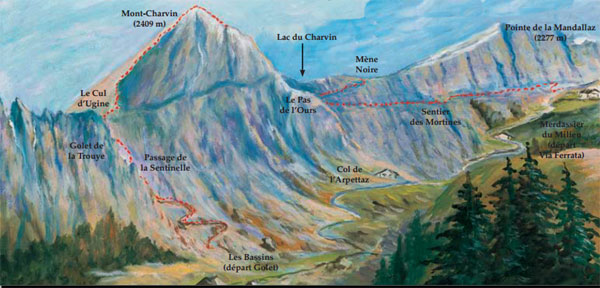 | | | | |
| --- | --- | --- | --- |
| Footbridge | Monkey Bridge | Ladder | Zipline |
| 0 | 0 | 1 | 0 |
Features
It's more like a climbing route or a hike secured with a lifeline than a via ferrata in the classic sense according to French standards. The via is integrated with a hike that leads to the Mont Charvin summit. The sections of cable are sometimes fairly long: 10 m.
The two via ferratas are not connected to each other: The Pas de l'Ours Via Ferrata and the Golet de la Trouye Via Ferrata
ViaFerrata Tips and Tricks
It is imperative that you have a helmet, good hiking shoes and a rope with you if your hiking colleagues are afraid of heights. It's an equipped hiking route, but not always. Sometimes its slippery and dangerous.
Recommended direction of travel: Golet de la Trouye climb, South Arrête, East Arrête, Pas de l'Ours Via Ferrata, Merdassier du Milieu
Grade
| | |
| --- | --- |
| Strength | 1 |
| Dizziness | 4 |
| Type | High Mountain: 1 |
| Technics | 1 |
| Evaluation | Difficult |
Information
Length & Altitudes
Via Ferrata start: 1,585 m
Top of the Pas de l'Ours Via Ferrata: 2,130 m
Elevation gain: 545 m
Total length: 250 m.
Top of the Golet de la Trouye Via Ferrata: 2,410 m.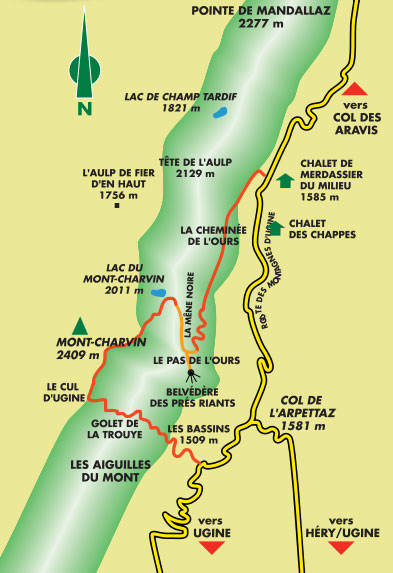 Time of Year
15th of June to 15th of October
Timing
Via ferrata there and back: 5h00.
Approach: 1h00
Total for the day: 5h-6h

By Car
Ugine is found a stone's throw away from Albertville
By Train
Check with the S.N.C.F .
Access
From Ugine take the road that leads to the Arpettaz pass and then follow the paved road from the mountains of Ugine to the Merdassier du Milieu chalet at 1585m.
Parking lot.
From the Merdassier de Mileu chalet you can reach the start via a trail that follows along the ridge which connects the Tête de l'Aulp to the Mont-Charvin in about 1h30.
Via Ferrata
A natural passage, the Mène Noire is a narrow ledge between a strip of schist and limestone. Follow it for 250m thanks to a route secured with cables that leads to the Mont-Charvin ridge. From here the view opens out onto the Alps and overlooks the Manigod valley and the Charvin lake nearby.
By climbing the fairly vertiginous ridge you get to the 2409m summit which is lined on the South with rocky cliffs. From the summit you can revel in the magnificent panorama of the entirety of the Northern Alps along with the Mont-Blanc and Beaufortain massifs.
Follow the same itinerary to go back down.

Way Back
Takes 1h.
Where to Spend the Night
Check with the Tourism Office. There is a camping nearby.
Media
par Chaîne de zebrprod, Youtube