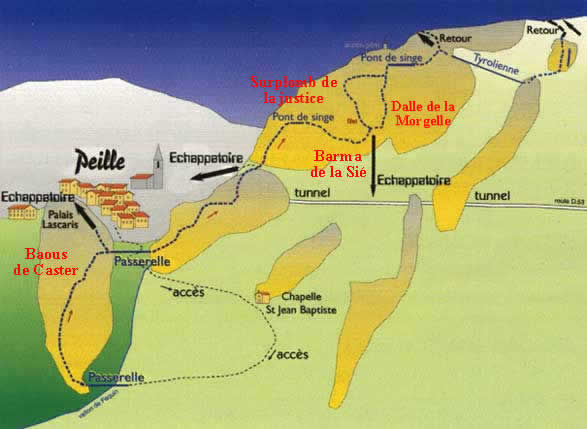 | | | | |
| --- | --- | --- | --- |
| Footbridge | Monkey Bridge | Net | Zipline |
| 2 | 2 | 2 | 2 |
Features
4 very different sections, and there is an escape possible before each: Hanging bridge, footbridge, a net over the void, technical parts, vertigo, and best of all an 80m zipline.
A beautiful via ferrata if you have mastered the technique and if you have experience.
You have to pay: 3 Euro for each adult, but it worths it.
It's also possible to do it at night. There are reserved nights.
ViaFerrata Tips and Tricks
Call before going as the number of participants is limited. You must reserve your seat!
Leave early in the morning...the traffic is as bad as in Los Angeles, minus the exhaust gas, at least that...
If the first part is too crowded you can start near the road for the second demanding part, but it's a shame to have come all this way to miss the first part.
Bring water. Full exposure to the Provence sun.
Don't bring beginners as it is not a via ferrata for first-timers. Some morons convince their friends to try this via ferrata as their first, but they are morons!
If you really want to do it as a first-timer, you can go with one of the available guides.
Grade
| | |
| --- | --- |
| Strength | 4 |
| Dizziness | 3 |
| Type | Plaine: 2 |
| Technics | 3 |
| Evaluation | More than extreme |
Information
The Absinthe bar is the owner of the Via Ferrata, here you can find rental equipment and details and explanations and entrance tickets:Tél: 04 93 79 95 75
Outside of France +33 4 93 79 95 75
Length and Altitude
Start: 515 meters
End: 700 meters
Length: 800 meters
Elevation gain: 185 meters
GPS Coordinates
N 43'48'268
E 007'24'225
Alt. 647 m.
Time of Year
All year. But be careful during the winter, it is not open every day.
Some nighttime outings are organized, check for dates at the Absinthe bar.
Timing
Approach: 5 minutes
Viaferrata : 1h45 during the week and 10 to 18h on the weekends!
Way Back: 15 minutes on an excellent trail
By Car
We'll be nice and give you a tip. Instead of going around in circles like we did trying to find one of the three routes that leads to Peille,
Exit the Nice-Est highway at Exit 57, La Turbie
In La Turbie get on the deparment road (route départementale) 53 to get to Peille.
Menton 24 km
Monaco 15 km
Vintimille 35 km.
By Train or Bus
From Nice with the bus and a lot of time to spare. Check with the SNCF: schedules and fares.
Access
In Peille, park in one of the public village parking lots made for those going up the via ferrata. Then cross the village to get your ticket at the bar and to get to the start of the via ferrata which is at the bottom of the village.
Via Ferrata
Le Baous de Caster: It starts off with a footbridge 30 pitiful meters above the ground. Then the proper via ferrata thrills begin with a first slab where an overhang might get you stuck. 300m of void. and behind you, before you transition onto a footbridge on the opposite wall, direct sunlight. If you don't want to cross this, there is an escape route...

Second section : It is strenuous and there are a lot of overhangs. The cherry on the cake is a hanging bridge with a magnificent view of the Peille village. A photo break is mandatory...

In the most eastern cave you can choose to keep going on to the next two parts or finish your adventure here. You can go on the infamous net or you can avoid it, but if you avoid it you still have to climb up!
At the top of the net you can zip off to the right to get on the easy variant or throw yourself into the Overhang of Justice. This section is reserved for skilled ferrata-ists and those who have strong arms. It need not be said that this is the thrilling section, even chilling.
Just above this variant you come to section that is not equipped with footholds, so it's all arm strength...or technique if you're holding us.
After that hard part: the Zipline. Be careful for the Zipline section! There is a mattress at the end of the zipline. It is there to save your life or a leg in case you need it! Do not use the Speed pulley from Petzl...if you don't weigh much, let yourself go. However, if you are heavier (90kg or more) brake because you might just end up testing the theory of the heavy thing against the insufficiently stuffed mattress..
Way Back
The way down towards the via ferrata... a real delight on a little shaded trail with a nice view on the cemetery.
Where to Spend the Night
There are several options in the village.
Media
vidéo by Via Ferrata.com, Youtube