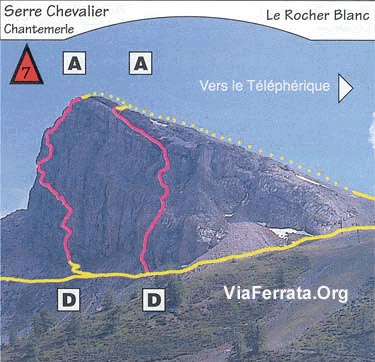 | | | | |
| --- | --- | --- | --- |
| Footbridge | Monkey Bridge | Ladder | Zipline |
| 0 | 0 | 0 | 0 |
Features
For first-timers and children. In one part of the via ferrata the rungs are purposefully closer together for children.
You will find two via ferratas. "L'Ancienne" ("The Ancient") is easy and in two parts with a "crevasse" section in the middle of the cliff.
ViaFerrata Tips and Tricks
At the beginning of the season, check to see if the road is accessible for cars. Sometimes it is flooded with water.
Grade
| | |
| --- | --- |
| Strength | 1 |
| Dizziness | 1 |
| Type | High Mountain: 2 |
| Technics | 1 |
| Evaluation | Easy |
Information
Serre Chevalier Tourism Office
Length and Altitude
Start : 1,620 m
End : 1,720
Elevation gain : 100m
Length : 350 m
Time of Year
Check with the tourism office.
Timing
Approach : 20 min
Via ferrata : 1h00
Way back : 20 min

By Car
Go past Serre-Chavalier. La via ferrata is found in the commune of Villeneuve la Salle
By Train or Bus
Check with the SNCF. schedules and fares.
Access
Dans la commune de Villeneuve la Salle, tu vas suivre la rivière jusqu'au parking du Parc Aventure. Tu continues pour te parquer 200m plus haut.
Le panneau de la via ferrata est sur ta droite.
Via Ferrata
This via ferrata is made up of 2 parts or 2 via ferratas, whichever you prefer.
The first one is very easy for children or beginners and you will pass through the guts of the cliff.
The second one starts to the left of the climbing rock. It is a bit more vertiginous, but it is accessible for all.
Way Back
The approach walk and the way back can both seem long.
Where to Spend the Night
Check with the Tourism Office
Media
vidéo par David Cracou, Youtube