Home
Details

Created: Tuesday, July 13 2021 22:09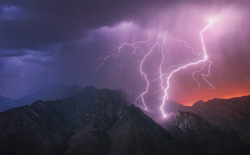 The summer of 2021 is definitely special. After the waves of coronavirus, it is the weather that plays with us. On the side of the Alps, the storms are violent and the rains are raining like lightning. There is quite a lot of flooding, rocks have fallen down the via, landslides, etc.  Ask the tourist office if your via is passable.

Speaking of lightning, be careful when you are on a via ferrata. The cabled lifeline is conductive, sometimes lightning can fall on it. It's not every day, but it would be a pitty if you are the one.
Before going to a via, be sure to check the weather. Moreover, even if it is summer, it is particularly cold. So take a raincoat, warm clothes and food.  Two people died in the Italian Alps (not on a via) during July caught in a sudden storm.
France and the Corona
Finally, France has changed the rules for the coronavirus. You don't need a vaccine to climb a via. However, to get there, if you don't have a vaccine, it's better to take the car because public transport is reserved for vaccinated people.
In Spain, it is also getting complicated, but it is ok. Switzerland is open, as well as the Italian Dolomites.
Check the latest information before you go to a country.