Home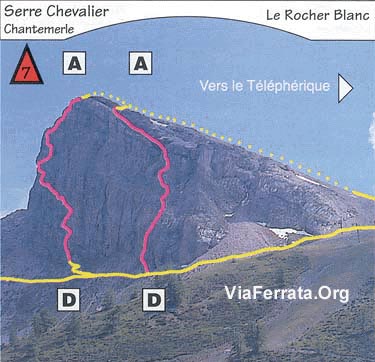 | | | | |
| --- | --- | --- | --- |
| Footbridge | Monkey Bridge | Ladder | Zipline |
| 0 | 0 | 0 | 0 |
Features
2 easy via ferratas side by side. They are accessible via the lifts! You can go up on foot, but it will take you 4 hours to get to the via ferrata.
ViaFerrata Tips and Tricks
Be careful of falling rocks and contact the station to see if the lifts are open.
You are in a mountain environment: make sure you bring proper hiking shoes, good sunglasses, sunscreen, a waterproof jacket that will keep you warm if it rains, and something to munch on if you get hungry. Just let Kilian Jorent go in his running shoes and shorts!
If you are a fan of MTB, you can take your bike and come back down on two wheels. It's really nice.
Grade
Strength
Via left: 2
Via right: 1
Dizziness
Via left: 2
Via right: 1
Type
High-Mountain: 1
Technics
Via left: 1
Via right: 1
Evaluation
Via left: Difficult
Via right: mid-Difficult
Information
Via Ferrata Le Rocher Blanc, Serre Chevalier, Saint Chaffrey, Hautes-Alpes
Length & Altitudes
Start : 2,370 m
Elevation gain: 105 m
Summit: 2,475 m
Time of Year
End of June/beginning of July to end of August with the possibility of taking the lifts.
Timing
Approach, without taking the lifts: 4h
Approach, with lifts: 20 min
Via ferrata : 1h30 - 2h00
Way Back : 30 min

By Car
Towards Serre-Chavalier. La via ferrata is found in the communce of ST-Chaffrey, near the base of the lifts.
You can also leave from Briançon but you will have to walk 1h30 to get to the via from the top of the Prorel lifts.
By Train
Check with the S.N.C.F .
Access
The lifts leave about every 15 minutes and go up to 2,480m.
At the top of the lifts you go down the ridge on the left until you reach the pass. Then you scramble towards the Rocher Blanc. Once you see the sign for the via ferrata you are there. If you have the coice start with the harder of the two (if you came to do both).
You can also take the Prorel lifts in Briançon, but it will be1h30 of approach.
Via Ferrata
You have the choice between two via ferratas. The one on the left is steeper and more vertiginous, but very well equipped.
The one on the right is a bit easier and not as steep.
If you leave early enough you can do both via ferratas in the same day.
The climbs are on steep walls, but they are short and then you get to a rocky arrête. From the summit you have a magnificent view. You will certainly notice the pink limestone and sandstone!
Way Back
30 minutes to the lifts.
Where to Spend the Night
Check with the Tourism Office
Media
par Chaîne de zebrprod, Youtube