Home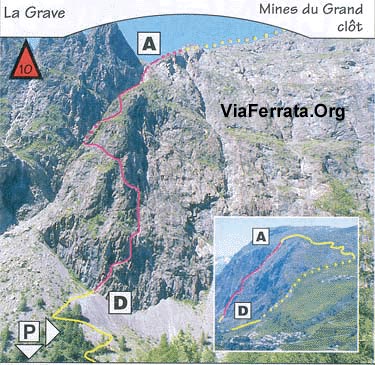 | | | | |
| --- | --- | --- | --- |
| Footbridge | Monkey Bridge | Ladder | Zipline |
| 0 | 0 | 0 | 0 |
Features
A very long via ferrata: 2km of cable. Lots of contact with the rock.
ViaFerrata Tips and Tricks
Make sure you take enough food and water for a full day in the mountains.
If you can leave your car at Chazalet, do so as it will make the way back shorter. You'll save an hour. But then again, what is one hour compared to all of life?
Grade
| | |
| --- | --- |
| Strength | 3 |
| Dizziness | 2 |
| Type | High-Mountain: 3 |
| Technics | 1 |
| Evaluation | Difficult (long) |
Information
La Grave Tourism Office
Length and Altitude
Start: 1,328 m
End: 2,100 m
Elevation gain: 750 m
Cable length: 2000 m.
Time of Year
April - November.
Timing
5 minutes for the approach
3 to 5 hours for the via ferrata
2 heures of downhill or 1 hour if your car is at Chezalet.
By Car
From Grenoble go towards Briançon by going over the Lautaret pass. The parking lot is at Le Grand Clos (1,328m), 3km before the village of la Grave. There is an information pannel.
By Train or Bus
Take the train to Annecy and then the bus. Check with the SNCF: schedules and fares.
Access
3 minutes from the road.
Via Ferrata
Several steep sections in the first 300m, but the hardest thing about this via ferrata is that it is long and there are no escape rights.
The section in the chimney is certainly the nicest part.
THe last part is a kind of rock climb and via ferrata, but the more you climb, the less steep it gets.
Bring a map of the area with you as it may be useful for the way back.
Way Back
By car if you can leave your car at Chazelet (GR54)
Where to Spend the Night
There are many lodges around la Grave and Chazelet. There are campgrounds and hotels in la Grave and in Fréaux.
Media
vidéo par Sepukangri, Youtube