Home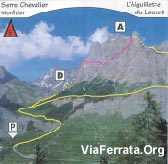 | | | | |
| --- | --- | --- | --- |
| Footbridge | Monkey Bridge | Ladder | Zipline |
| 0 | 0 | 1 | 0 |
Features
A nice hike up that is sure to fill your day and is topped off with an elegant summit at 2600m. Lots of walking for an iron trail.
High altitude atmosphere.
ViaFerrata Tips and Tricks
The way down is a real marmot public housing area, have your whistles ready...At the end of the summer season these marmots are quite fat and slow-moving. It's a good time to go observe them. But don't run after them, they need those precious calories to get through the winter.
Bring your camera because the view at the summit is well worth the extra weight.
Go only if the weather is nice as the view from the summit is really the cherry on the cake!
Grade
| | |
| --- | --- |
| Strength | 2 |
| Dizziness | 2 |
| Type | High-Mountain: 3 |
| Technics | 1 |
| Evaluation | Not Difficult |
Information
Serre Chevalier Tourism Office
They may or may not answer you!
Length and Altitude
Start 1,710 m
Finish 2,600m
Elevation gain 900 m
Length : 500 m
Time of Year
June to October (watch out for snow at the beginning of the season leftover from winter damage)
Timing
Access: 45 minutes
Viaferrata : 3-5 hours.
Way back : 1h30 on the marked trail (going East from the starting point).

By Car
On the La Grave/Serre-Chevalier road park at the parking lot at the start of the Lauzet à Monêtier-les-Bains Via Ferrata.
By Train or Bus
Check with the SNCF: schedules and fares.
Access
From the Pont de l'Alpe parking lot follow the Alpe du Lauzet track that goes up to the Chardonnet Pass. After about 40 minutes of walking you get to a small village (1,940 meters). Here, go right (towards the cairns). An inscription marks the start of the via ferrata.

Via Ferrata
The via ferrata starts on a trail with steep grassy ledges. Then you cross a slab and a ladder.
You keep going via a pretty narrow, obscure, and dark gap. You're in the mailbox now.
You climb back up some new slabs that will lead you to a rocky trail which in turn leads you to the summit, perched at 2,160m.
From the summit you have a beautiful view on the Ecrins Massif, the Queyras, the Mont Viso, the Agneaux and the Briançonnais
Way Back
The way back is down the other slope (east).

After a rather athletic and narrow start you'll find a good trail that will lead you to the base of the Aiguillette on the GR50. You reach the Pervous plateau (2,340m) as well as the Alpe du Lauzet chalets a bit further down.

Where to Spend the Night
Check with the Tourism Office

Media
vidéo par Jasmienes, Youtube