Home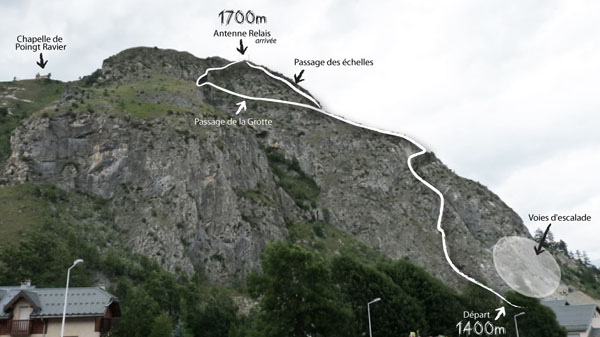 Topo: ski-valloire.net
| | | | |
| --- | --- | --- | --- |
| Footbridge | Monkey Bridge | Ladder | Zipline |
| 0 | 0 | 0 | 0 |
Features
Historically the first equipped via ferrata in Savoie! An open invitation for beginners to start off smoothly and gently. You won't come across any real difficulties and you can make the most of a beautiful viewpoint.
ViaFerrata Tips and Tricks
Fully south facing! It's better to go up it in the morning.
Recommended for those who have a fear of heights.
Grade
| | |
| --- | --- |
| Strength | 1 |
| Dizziness | 2 |
| Type | Mountain: 1 |
| Technics | 1 |
| Evaluation | Initiation / Easy |
Information
Length & Altitudes
Start of the viaferrata : 1,450 meters
End of the viaferrata : 1,650 meters
Length : 500 meters
Elevation gain : 200 meters
Time of Year
May to October depending on the snow
Timing
Via Ferrata access : 1 minute
Poingt-Ravier: 2 hours
Way back : 30 minutes
By Car
Highway A43 to St Michel de Maurienne, 17km from Valloire, then CD 902. The Galibier pass is open from the beginning of June to the end of October depending on the weather conditions.
By Train
Check with the SNCF for buses and trains.
Access
Borgée parking lot. Then follow the Valloirette stream on the left bank for 150m and a path on the left will lead you to the start.
This is also the start for the Rocher Saint Pierre via ferrata.
Via Ferrata
Recommended for beginners. It's a very nice route.
The via ferrata start off with a small wall and brings you above Valloire where you have a magnificent panorama. There is plenty of equipment which makes the climb easy. You keep going over several slabs to get to an aerial ledge on your left.
Once again you'll have some slabs and short traverses to get to a grassy platform. Here you have two options

A) go into the "Grotte" (cave) on the left, a very easy route
B) go right and you'll get to the summit via a series of slabs and some grassy sections.
Way Back
The way down is on a dirt trail that leads you to the hamlet of Poingt Ravier. From here you will find the "éco-sylve" trail or the Borgée trail.
Where to Spend the Night
Stopover lodge "les Réaux près de Bonne nuit", 19 spots available