Home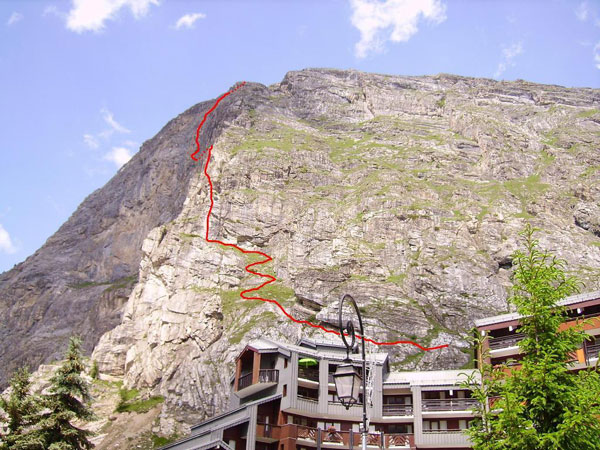 Topo par AltitudeRando.com
| | | | |
| --- | --- | --- | --- |
| Footbridge | Monkey Bridge | Ladder | Zipline |
| 0 | 0 | 0 | 0 |
Features
A via ferrata that follows a slab and really works your arms. It is located across from the Roc de la Tovière Via Ferrata.
ViaFerrata Tips and Tricks
Leave early in the morning because if it's sunny the sun is very strong!
Grade
| | |
| --- | --- |
| Strength | 4 |
| Dizziness | 4 |
| Type | High Mountain: 2 |
| Technics | 1 |
| Evaluation | Very Difficult |
Information
Length & Altitudes
Start of the Via-Ferrata:1,800 m.
Summit of the Via-Ferrata : 2,216
Elevation gain : 416 meters
Length : 650 meters
Time of Year
June to October (high-altitude setting)
Timing
Via-Ferrata access: 5 min
Via-ferrata : 2h to 3h
Way back : 45 min
By Car
N53 Grenoble, Albertville, Chambéry. A43 Alberville.
RN90 Bourg Saint Maurice D902 Val d'Isère approx. 28 km from Boug St-Maurice
By Train
Check with the S.N.C.F .
Access
To your left right as you enter Val d'Isère going up towards Val d'Isère across from the first big building.
Via Ferrata
This via ferrata is very demanding and there is a big overhang in the first part with a 20m wall. You will need your arms and your self control to master your vertigo.
You will also discover two fairly steep and vertiginous pillars that will lead you to an overhanging downclimb, the atmosphere remains vertiginous. Yet again another part will work your arms, first on an overhang and then on a slab until you reach the top, all in a very vertiginous setting and with a spectacular view of the Val d'Isère.
Way Back
Approx. 45 minutes on the trail.
Where to Spend the Night
Check with the Tourism Office.
Media
par Mark Hayes, Youtube
If you have another video, contact us