Home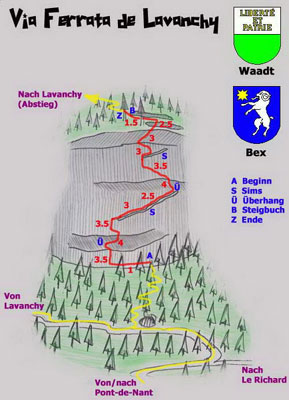 topo http://www.klettersteig.de
| | | | |
| --- | --- | --- | --- |
| Footbridge | Monkey Bridge | Ladder | Zipline |
| 0 | 0 | 0 | 0 |
Features
Like a 100 meter sprint. Intense, athletic and short. It's difficult to give it a precise grade.
Hidden in the forest.
ViaFerrata Tips and Tricks
Take a GPS with you because to find it you need to get up early. Look carefully at the instructions to find it because it is hidden.
It appears on the new 25,000 Swiss topographic maps.
Grade
| | |
| --- | --- |
| Strength | 3 |
| Dizziness | 3 |
| Type | Montagne: 3 |
| Technics | 1 |
| Evaluation | Very difficult |
Information
Office du Tourisme de Villars-Gryon
Length & Altitudes
Start altitude: 1'499 m
End of the via: 1'574 m
Via elevation gain: 75 m
Length: 200 m
Exposure: Southeast
GPS Coordinates
46.15.473
0.07.309
Time of Year
When there is no snow left. April-November.
Timing
Via ferrata approach: 25 min
Via Ferrata: 15 min
Way Back: 30 min
By Car
12.5 km from Bex.
Go towards "Les Plans." It's quite a climb. When you get to Les Plans, go to your right towards Pont de Nant. You'll follow a small rural road in the forest. After 2.5km you come to a clearing with a parking lot and some restaurants.
Park your car in the first parking lot.
By Train
You can take the train all the way to Bex. Then you can take a bus to Les Plans. The bus will drop you off at Les Plans and from here you should follow the river to go up to Pont de Nant.
(contact the SBB for train and bus schedules).
Access
You'll find some pictures in the album below.
From the parking lot, go up the stone road (it is suitable for motor vehicles). Stay on this road even if there are other trails that look nice. After 2km you go over a bridge (iron fence). After several fairly tight turns and when you arrive to an almost flat area, you will find a trail on your left. (see picture). If you come out of the forest, you've gone too far.
Walk 50 meters and you will find a special tree (see picture) on a tree. The via is located 30 meters higher towards the cliff.
Via Ferrata
The via ferrata starts off with a climb which has a slight overhang. And of course you have to unclip and reclip your lanyards in the middle of the overhang. You then head right for a traverse that includes a new incline which is pretty tough on the arms. Your feet will find holds on the rock.
Another left turn to attack the second ledge. Here, the void will take you by the throat. It's not very high, but fairly vertiginous and you have to look down to place your feet. After another move that relies on your arms you change directions and are ready to attack the last climb towards a tree.
That's it. You've reached the end. Short and intense, but short.
Way Back
At the exit, continue towards the valley (Pont de Nant). Follow a fairly intuitive trail along the cliff. However, to attack the downhill at the end of the cliff, it's each man for himself until you reach a small house down below. From there you meet back up with the trail. You'll be back in 30 min.
Where to Sleep
The Pont de Nant Inn, near the parking lot: You have the option of sleeping in a dormitory.
Take 100.-- Frs with you to cover the costs of half-board (one adult, one child 4-12 years old).
Media

par karlitodelacasa, Youtube