Home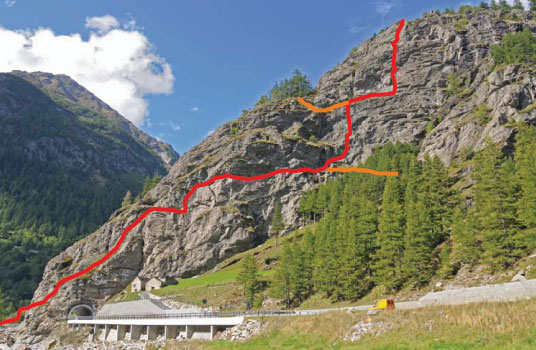 | | | | |
| --- | --- | --- | --- |
| Footbridge | Monkey Bridge | Ladder | Zipline |
| 0 | 1 | 0 | 0 |
Features
Really nice and quite vertiginous. In contrast to the Swiss German via ferratas which have stakes, this one has real steps like the ones in France or French-speaking Switzerland that we know so well. It's more enjoyable and safer.
ViaFerrata Tips and Tricks
The weather in this area doesn't have the best reputation. So check before you leave, one never knows. Take a waterproof jacket and an extra layer. You will be at altitude.
Grade
| | |
| --- | --- |
| Strength | 2 |
| Dizziness | 3 |
| Type | Mountain: 1 |
| Technics | 1 |
| Evaluation | Difficult |
Information
Tourism Office in Simplon
Length & Altitudes
Start : 1'200 meters
Finish : 1'450 meters
Length : 700 meters
Elevation gain : 250 meters
GPS Coordinates
46.184645 / 8.073434
Time of Year
From April to October/November depending on snow
Timing
Access: 5 min
ViaFerrata : 1h30
Way Back : 30 min
By Car
From Brig, you go over the Simplon pass and then go down the Italian side. At Gabi, you will find the start.
By Train
From Brig, take the bus towards Simplon/Gondo (the border with Italy). Ask the driver to let you off a little before Gondo at Gabi.
Access
A stone's throw away from the cantonal road.
Via Ferrata
The Via ferrata is very well equipped and you will not have to touch the rock at all.
It all starts off with a small hanging bridge (optional) over the river, and then the route snakes pleasantly on the rock face. There is an overhanging view on the Simplon road and from the upper section it is even quite impressive. After the horizontal ledge there is an escape route and you can find a second one before the last vertical wall.
Nonetheless, the via ferrata is never very difficult and it is very well equipped.
Way Back
30 minutes to get back down to the parking lot.
Where to Spend the Night
We have tried two options:
L'Hôtel de la Poste in the Simplon Village
and in Gondo the Stockalper Turm. Also dormitory style. Very beautiful and the meals are delicious (April 2015).
The Simplon Hospice, with its famous génépi (an herbal liqueur, drink it without moderation AFTER the via), is also available.
Photos
par Paolo DeAndreis, Youtube