Home
Details

Last Updated: Thursday, July 11 2019 12:32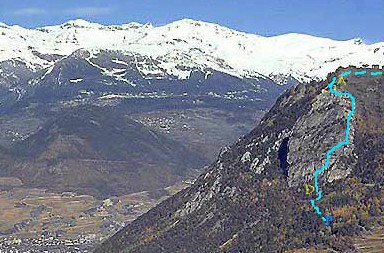 Topo Visinant.ch
| | | | |
| --- | --- | --- | --- |
| Footbridge | Monkey Bridge | Ladder | Zipline |
| 0 | 2 (but tiny) | 0 | 0 |
Features
This via ferrata is ideal for beginners and an introduction to via ferratas. The escape route has been canceled. If you stat it, you must finish it till the end
Open all year.
ViaFerrata Tips and Tricks
Bring a picnic for the end of the via, you can climb up on the gazebo (the old end of the via) to make the most of the view. Nax is a nice village.
Grade
| | |
| --- | --- |
| Strength | 1 |
| Dizziness | 2 |
| Type | Plaine:2 |
| Technics | 2 |
| Evaluation | Initiation |
Information
Tourism office of Nax
Length and Altitude
Length: 450 m
Altitude gain: 220 m
Start: 1'000m

GPS Coordinates
From the beginning of the via:
N 46.13.454
E 007.25.166
Altitude: 995 m.
Time of Year
Open all year.
Timing
Aprroach on foot from the parking lot: 5 minutes
Via Ferrata: 1h
Way back: about 25 min back to the parking lot
By Car
From the highway from Martigny take the second exit in Sion (Hospital). Go towards Bramois.
In Bramois cross the bridge over the river and go towards Nax. The via is found about 5km from Bramois. There is a parking lot on the left side of the road in a hairpin and a sign points you to the via ferrata.
By Train
Take the train to Sion. Then the bus to Nax. Contact the SBB for schedules and fares.
Access
From the parking lot follow the small trail in the forest. You will see the sign that welcomes you to the via. Walk a couple minutes more and you arrive at the beginning of the via ferrata.
Via Ferrata
In front of you is the impressive Belvédère cliff: 240 meters of rock, sometimes perfectly vertical
Rules to obey: Never stray from the markings, the numerous ledges are interspersed with projections that are sometimes insurmountable, and the ground can be slippery. You must have the minimum required equipment, that is a helmet (the rock is friable), harness, Y shaped lanyard with a progressive tearing energy absorber, auto-locking carabiners, a rope for children and beginners
The first part of the route is composed of big walls, connected by sequences of ledges and projections. You will cross a small rope bridge (about 3 m), the exit is a bit technical and physical, but nothing too demonic. What's more, there is some void.
You then arrive to a second rope bridge. Make the most of it as the via ferrata ends in a few minutes.

Way Back
Oh! You must go up to the gazebo for the view. Then, take the trail that goes down. The trail is good overall, a bit steep in some places and rock&roll if its humid and rainy.

Where to Spend the Night
ViaFerrata.com Youtube
Photos